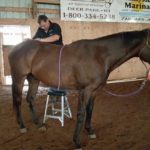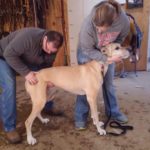 ---
Animal Chiropractic Reviews
---
---
---
*****Fantastic work!!! I have a whole new horse, I've never seen her move so well! Brian explained everything that he was doing, and how it was affecting her, he told me what I had problems with under saddle with out me mentioning it! He knows what he's doing, highly recommend him!!!
Brianna Rakowki
---
*****Brian and his work on horses is awesome! Can't thank him enough for making my horses feel and run better!
Kimberly Meador
---
*****Your compassion and patience with my dog was much appreciated. My poor dog has dealt with pain flare-ups for many years. He slept all the way home. You can tell he was relieved, which in turn relieved me. Thank you from the both of us!!
Amanda White
---
*****Dr. Brian is great! He took his time with our horse to figure out what was wrong wrong with him and explained everything he was doing. We definitely will be back and would recommend him to our friends and family.
Andrea Hahn
---
*****A few months ago, our 6 year old lab Hailey slipped on the ice injuring her spine. She was in a tremendous amount of pain and unable to move her hind legs. It was Sunday evening so our vet wasn't able to help, but recommended we take her to the U of M. Hours later, at the U. we learned that she has 1 of 3 levels of disc injury. The most severe would require surgery and the next step was an MRI. Combined – these diagnostics and treatment would cost approximately $6k. We decided to play the odds hoping rest and pain meds would show signs of improvement. Next step, Brian Gray. He was amazing! Our first house call Monday morning proved effective in relieving some of the nerve pressure on Hailey's spine and she was able to rest more comfortably. We remained fearful that we would have to put her down or that she would never regain full mobility. Several regular adjustments over the next month or so, and a couple visits to her vet, Hailey is back to her old frolicking self.
Thank you Brian for your care and support for our much loved friend and companion!
Gratefully – Margaret and Jason Jensen
---
*****Have been having a hard time getting an answer with my two year old colt to the point of I don't knows and lots of tears he's been miserable for weeks and I didn't know how to help him! I got the answers I needed from Brian he's the happiest iv seen him in a month and is finally the happy easy going Colt I remember. I got my baby back I can finally sleep tonight. It's so hard when they can't tell you what's wrong but Brian can feel it and give you some answers. IV been really happy with all he's dun for us or our farm and coming out on short notice! Thank you Brian! I'd highly recommend him to anyone!
Tenille Karl
---
---
Human Chiropractic Reviews
---
---
---
*****The only chiropractor that I know of that will meet you in his office at 5:30 a.m. to adjust you before he leaves for a road trip out of town. I was miserable and in a tremendous amount of pain from a rib being out of place. He adjusted me and made another appt for tomorrow (also another day out of the office, because it's "animal" day). I am so grateful for him and his care! Great guy! Great Doctor!
Jackie Niedermeier
---
*****Feeling so much better tonight after Dr. Brian's magic adjustment today. He provides the best services without the traditional come back tomorrow, and then the next day, and then schedule each week routine that doesn't work. I go when needed and he can solve the problem. #BEST
Phyllis Soderberg
---
*****Best chiropractor ever. Worst years of my life when Dr Brian was away. Kind, compassionate, and tough when it's called for. Thanks for keeping me straight!
Cathlene Haas
---
*****I adore Dr. Brian. I always feel better after seeing him. BTW, my headache is gone.
Katie Kiser
---